Belinda joined Garie Nigel Hairwork in March 2019.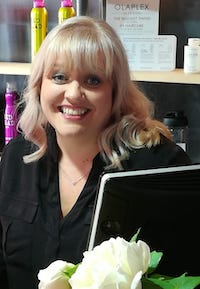 She is a hardworking member of the team who ensures all appointments are made correctly, whether it be on the 'phone or in the salon.
She is always ready with a warm smile and, as front of house, welcomes all clients into the salon.   Should you wish to chat about which Designer is best for you, or you need to amend or make an appointment, Belinda will be happy to take the time to assist.
We are very pleased to have her in the salon …… she enhances the Garie Nigel Hairwork experience.