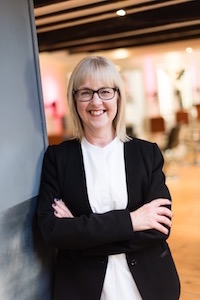 Sharon left school at 16 and started working at The Savoy Hotel in London, as a Secretary in the engineering department.
Over a period of time and working for various small organisations, she was taught administration skills, alongside payroll and accounts.
Married to Garie with three children, she is responsible for the day-to-day management of the bank account, payroll, purchase/sales ledgers, VAT control and marketing.    She pops into the salon regularly to keep her hair in tip-top condition and even to this day, still finds it a real treat.
Leisure time is spent gardening, sewing, reading and enjoying time with friends and family.
"It's so important to look after yourself, both physically and emotionally and I find popping into the salon for a chat and a blow dry covers both brilliantly"!