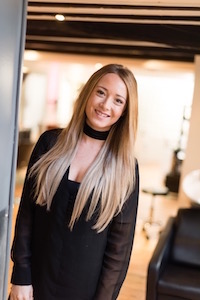 Monet went straight into hairdressing on leaving school.   She had already worked in Dad's salon on the occasional evening and some Saturdays and decided she would like to do an apprenticeship.
She qualified in 2011.   In 2014, she was chosen out of 1000s of entries as one of 10 finalists in the TIGI Inspirational Youth Programme.
She has since become renowned for her work, especially her colouring techniques.   Monet is also qualified in the application of Nano-Ring Hair Extensions.   A consultation is essential to discuss the quantity, timing and cost of the extensions and this is FOC.   Aftercare advice is an important part of the service too.
She is happy to sit down and chat with potential clients (and existing ones) to discuss their requirements and this can be done over coffee or tea and a pile of magazines for ideas.   Booking early is essential, as Monet is extremely busy.
Monet is now one of our Creative Directors, along with Jackie Caprio, who she will help maintain and run the salon on a day-to-day basis, alongside her hairdressing.
We are delighted to congratulate Monet on the birth of baby daughter, Bleue Hemi, born on 3 May 2022.   Monet loves motherhood and is enjoying her maternity leave, but will return to the salon in due course.